Chơi Draw Happy Police trên PC cùng NoxPlayer
Chi tiết
Ngày cập nhật :  2021-11-12
Phiên bản hiện tại :  0.3.6
Welcome to the world of Draw Happy Police!

In this game you can see a part of the character's life.
To clear this game, you have to discover why they are in trouble or in a bad mood. Think of something they will be happy with and write it in your own hands.
If your expectations are correct, their dissatisfaction will be resolved and you will smile!
Their faces will regain their glow and will rejoice as if they had received money.

Can you make the police officers happy or struggle? Do you need a clue or a hint?
Are you looking for intuitive easy puzzle games? Save these officers!
They want to live a happy life, so they need your brain! Help them out!
Let's test your brain! Start drawing now! Save them all!

How to be a Draw Master

1.Relax and solve puzzles
Calm down and find missing issues.
Please don't erase anything, but just scribble on the screen.
You can tap, swipe, rubbing,etc. to write on this screen at will!
Even if you don't understand, let's take the plunge and draw something
Rest assured that there is no risk of failure!

2. Spend long days in the lives of police officers.
Over 200 puzzles and so many episodes of missing parts are packed with fun!
Don't be braindead! Look for clues and hints.

3. You don't have to draw perfectly no need to be perfect
Enjoy just like you would on a chalkboard.
You need not feel guilty. You will likely have fun when you find the story behind the scenes!

If you clear the question, you can get a diamond. This diamond can be used like money to increase the furniture in the main character's room! you can make your wallpaper colorful or carpet it!
How well you can spend your money meaningfully will also be tested in this game!
There are many types of pencil, and their shapes and colors vary! Get skins you like, such as carrots, and cat hands! It would be great if all types could be completed!

If you like brain out or happy glass, this game will also be one of your favorite choices. Let's download now, and draw something to solve puzzles! Drawing will put a smile to your face and your family!

This game is so easy that it's perfect for your kids to play! People of all ages can play, so let's play with your family and friends and get excited!

Various series of Draw Happy have been released!
There are many other themes such as dentists, Instagrammers, students and criminals. When you finish playing this game, please try other series! If you play, new discoveries and fun will be waiting for you!
As the series grows, you won't be free for the rest of your lifetime!

Here are some of the riddles we have!

◆ She can't charge my smartphone!
The man has a broken charger cord and can't charge!
You know the sadness of running out of charge on your cell phone, right???
Let's add some code so that the phone can be charged!

◆ The roller coaster is interrupted on the way!
They got on a roller coaster with a broken rail! If they proceed as it is, everyone will drop and it is very dangerous! If they fall from such a high place, they will be seriously injured.
Let's avoid that risk with your power!

Even if you make a mistake, don't give up and rise up!
You don't have to draw it neatly! It's okay to draw quickly like scribble!
If you keep guessing what is the correct answer and keep drawing something, you should be able to get the correct answer!

Features:
• Draw by touching directly on the screen (tap and scribble)
• Colorful drawing will entertain your whole family
• Hint and clue are always available for each stage
• Short and simple game design to suit any age group
• You won't be guilty if you fail the game!
• Relax and draw like scribbles!
• Easy to figure out puzzle
• Judgement is made user friendly
• You don't have to erase the picture you drew!
• Friendly tips, all for free!
• There is no risk of game over like other games
What are you waiting for? Start drawing now, and save them police officers!
We hope this will become your lifetime experience!

Let's play Draw Happy Police right away!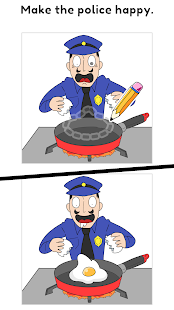 Giả lập NoxPlayer đem đến trải nghiệm chơi game tuyệt vời nhất cho bạn
Hướng dẫn chơi Draw Happy Police trên PC cùng Giả lập NoxPlayer
1Tải NoxPlayer trên máy tính của bạn

2Chạy tệp cài đặt và hoàn tất cài đặt

3Tìm kiếm Draw Happy Police trên NoxPlayer

4Tải game từ Google Play

5Nhấn vào biểu tượng game để khởi động game

6Chơi Draw Happy Police trên máy tính mượt mà- ổn định với NoxPlayer
Phương pháp đơn giản
Cách 1: Nhấn vào "Tải về bản PC" để đồng thời tải về Giả lập NoxPlayer và File APK. Sau khi quá trình cài đặt hoàn tất, bạn hãy khởi động giả lập và bắt đầu những trải nghiệm thú vị.
Cách 2: Nếu máy tính của bạn đã cài đặt sẵn Giả lập NoxPlayer, hãy nhấn "Tải APK", sau khi quá trình tải về hoàn tất, kéo thả File APK vào giả lập NoxPlayer, hệ thống sẽ tự động giải nén và cài đặt.
Video đặc sắc của Draw Happy Police
Chơi Draw Happy Police, bạn vẫn đang nhìn chằm chằm vào màn hình điện thoại ư? Giả lập NoxPlayer sẽ giúp bạn trở thành một game thủ chuyên nghiệp để chơi các tựa game bạn yêu thích trên máy tính, điều khiển trò chơi thông qua bàn phím, chuột máy tính và tay cầm, mọi thao tác sẽ trở nên dễ dàng và linh hoạt hơn bao giờ hết, giúp cho bạn tăng cấp, leo rank nhanh hơn. Tải và chơi Draw Happy Police một cách ổn định và mượt mà nhất trên máy tính cùng giả lập NoxPlayer. Chơi game mobile trên NoxPlayer sẽ giúp bạn tránh được những hao mòn và tổn hại cho điện thoại, không còn phải sợ các cuộc gọi đến bị cản trở khi chơi game. Bản mới nhất của NoxPlayer hỗ trợ tốt cho Android 7 và tương thích một cách hoàn hảo với hơn 99% các tựa game mobile hiện hành. Nox chính là vũ khí tối ưu nhất giúp bạn chơi tốt các trò chơi hay ứng dụng mobile trên máy tính. Chúng tôi hỗ trợ cài đặt bàn phím điều khiển cho từng game một cách phù hợp nhất, để bạn có thể trải nghiệm Draw Happy Police một cách chân thực nhất với các thao tác như chơi trên mobile.
NoxPlayer hỗ trợ tính năng Trình đa nhiệm Multidriver, có thể khởi tạo và chơi nhiều cửa sổ giả lập và acc cùng lúc, bạn có thể đồng thời chơi game/ứng dụng yêu thích trên các cửa sổ được tạo bởi NoxPlayer. Kỹ thuật ảo hóa độc quyền từ NoxPlayer tương thích hoàn hảo với máy tính AMD và Intel, giúp cho máy tính vận hành ổn định và mượt mà. Giả lập NoxPlayer sẽ biến bạn thành các game thủ hạng nặng, còn chần chờ gì nữa, hãy tải ngay NoxPlayer về máy tính và trải nghiệm nhé!
NoxPlayer is designed for Windows and MAC OS, please visit this website via computer browser to download NoxPlayer.