Chơi RuneScape trên PC cùng NoxPlayer
Chi tiết
Ngày cập nhật :  2021-03-26
Phiên bản hiện tại :  Varies with device
NOTICE TO EARLY ACCESS BETA TESTERS
The PreRegister button will not appear if you have the RuneScape Beta app on your device. Don't worry the PreRegister Rewards will be delivered to you automatically upon the official worldwide release of the game.

Note that if you optout of the beta testing program, you will no longer be able to access the game on mobile platforms until the full release.

MORE REGISTRATIONS = MORE REWARDS!
The more people who register for RuneScape, the more rewards will be unlocked for everyone! Goodies include an exclusive hairstyle, pet, teleport animation, sword, and armour PLUS a 7day 50% XP Boost! Tell your friends and register today!

EXPLORE A VAST MMORPG WORLD LIKE NO OTHER
Journey into the Sixth Age of Gielinor and discover the best ever fantasy MMO RPG open world, deep with legend and lore. Gielinor's people may be thriving, but the Elder Gods still scheme. The black clouds are darkening and war looms. Experience a fun fantasy online MMO world that's 20 years old and only getting better.

PLAY YOUR WAY
It's all up to you. Will you explore the world and embark on a risky raid with friends, or seek fame and fortune as a lone adventurer? Whether you're the hero of daring quests, quietly tending to your farm, a legend risking it all against a highlevel boss or simply a gentle soul spending a night at the circus, RuneScape is the perfect AFK secondscreen game. Play how you want, the choice is yours! Warrior or wizard, farmer or cook – what type of hero will you be?

ENDLESS DISCOVERY
With a world and story that's been growing for an incredible 20 years, RuneScape continues to thrill players with a magic packed adventure unlike any other. With 270 million installations and crossplayability on PC and mobile, join the hundreds of millions of people who have explored the fantastic and mystical world of Gielinor.

UNFORGETTABLE ENCOUNTERS
Make friends – and perhaps sometimes enemies – with a rich roster of memorable NPC characters. From lovable companions and friendly rogues, to deceitful villains and vengeful gods, the many faces of Gielinor offer a deep fantasy experience unlike anything else.

A THRIVING WORLD
Visit dozens and dozens of unique and striking locations, from the medieval city of Burthorpe and the tranquil harbours of Catherby, to the dangerous dragon filled expanses of the Wilderness or the barren and parched Kharidian Desert. Own your own port! Run your own farm! Make a pretty penny trading with players at The Grand Exchange… but be sure to keep your exotic wares safe in the Bank.

POWERFUL SKILLS
With 28 skills to master, what will you become? Will you be one with nature by perfecting Woodcutting, Fishing, Herblore and Cooking? Or perhaps you prefer to be creative with Crafting, Farming, Smithing and Construction? Maybe your tastes lay elsewhere – with Hunting, Divination, Invention or Runecrafting? Or does your soul yearn for action, with Magic, Summoning, Slayer and Dungeoneering?

VERSATILE COMBAT
Do you want to get up close and personal with a sharp blade in your hand? Or will you take a tactical approach and attack from range? Or perhaps your skills are more mystical, and you prefer the arena of magic? Defeat a dazzling assortment of foes including an unimaginable array of epic bosses. From demons to dragons and rock monsters to serpents, nightmares beyond your wildest imagination lay in wait.

MEMBERSHIP BENEFITS
RuneScape can be played for free, but also offers optional membership that unlocks even more thrilling content, including 8 additional skills, over 120 extra quests and access to the entire world map! Enjoy RuneScape at its best!

JOIN OUR COMMUNITY
Add your unique voice to our vibrant RuneScape community. Enjoy a strong connection to RuneScape's independent development team by joining them for regular livestreams and share ideas on the forums. We shape RuneScape together!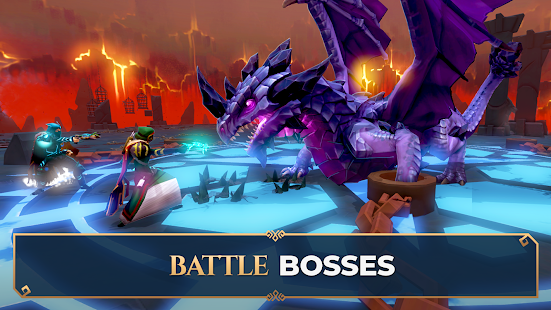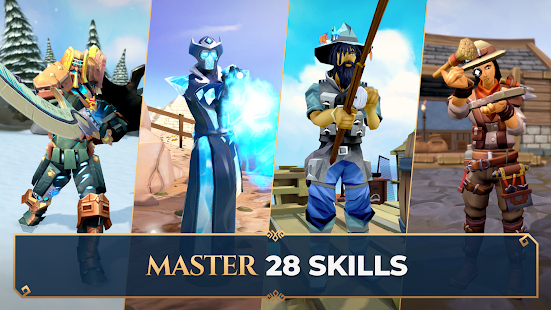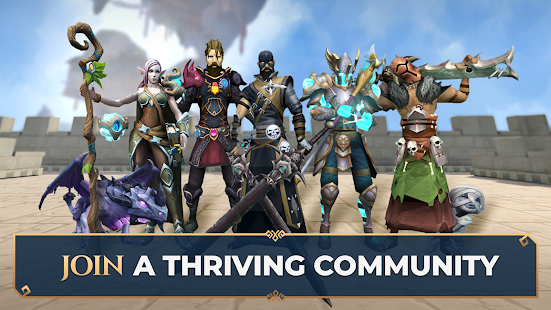 Giả lập NoxPlayer đem đến trải nghiệm chơi game tuyệt vời nhất cho bạn
Hướng dẫn chơi RuneScape trên PC cùng Giả lập NoxPlayer
1Tải NoxPlayer trên máy tính của bạn

2Chạy tệp cài đặt và hoàn tất cài đặt

3Tìm kiếm RuneScape trên NoxPlayer

4Tải game từ Google Play

5Nhấn vào biểu tượng game để khởi động game

6Chơi RuneScape trên máy tính mượt mà- ổn định với NoxPlayer
Phương pháp đơn giản
Cách 1: Nhấn vào "Tải về bản PC" để đồng thời tải về Giả lập NoxPlayer và File APK. Sau khi quá trình cài đặt hoàn tất, bạn hãy khởi động giả lập và bắt đầu những trải nghiệm thú vị.
Cách 2: Nếu máy tính của bạn đã cài đặt sẵn Giả lập NoxPlayer, hãy nhấn "Tải APK", sau khi quá trình tải về hoàn tất, kéo thả File APK vào giả lập NoxPlayer, hệ thống sẽ tự động giải nén và cài đặt.
Video đặc sắc của RuneScape
Chơi RuneScape, bạn vẫn đang nhìn chằm chằm vào màn hình điện thoại ư? Giả lập NoxPlayer sẽ giúp bạn trở thành một game thủ chuyên nghiệp để chơi các tựa game bạn yêu thích trên máy tính, điều khiển trò chơi thông qua bàn phím, chuột máy tính và tay cầm, mọi thao tác sẽ trở nên dễ dàng và linh hoạt hơn bao giờ hết, giúp cho bạn tăng cấp, leo rank nhanh hơn. Tải và chơi RuneScape một cách ổn định và mượt mà nhất trên máy tính cùng giả lập NoxPlayer. Chơi game mobile trên NoxPlayer sẽ giúp bạn tránh được những hao mòn và tổn hại cho điện thoại, không còn phải sợ các cuộc gọi đến bị cản trở khi chơi game. Bản mới nhất của NoxPlayer hỗ trợ tốt cho Android 7 và tương thích một cách hoàn hảo với hơn 99% các tựa game mobile hiện hành. Nox chính là vũ khí tối ưu nhất giúp bạn chơi tốt các trò chơi hay ứng dụng mobile trên máy tính. Chúng tôi hỗ trợ cài đặt bàn phím điều khiển cho từng game một cách phù hợp nhất, để bạn có thể trải nghiệm RuneScape một cách chân thực nhất với các thao tác như chơi trên mobile.
NoxPlayer hỗ trợ tính năng Trình đa nhiệm Multidriver, có thể khởi tạo và chơi nhiều cửa sổ giả lập và acc cùng lúc, bạn có thể đồng thời chơi game/ứng dụng yêu thích trên các cửa sổ được tạo bởi NoxPlayer. Kỹ thuật ảo hóa độc quyền từ NoxPlayer tương thích hoàn hảo với máy tính AMD và Intel, giúp cho máy tính vận hành ổn định và mượt mà. Giả lập NoxPlayer sẽ biến bạn thành các game thủ hạng nặng, còn chần chờ gì nữa, hãy tải ngay NoxPlayer về máy tính và trải nghiệm nhé!
NoxPlayer is designed for Windows and MAC OS, please visit this website via computer browser to download NoxPlayer.