Chơi Real Gangster Crime trên PC cùng NoxPlayer
Chi tiết
Ngày cập nhật :  2021-11-10
Phiên bản hiện tại :  5.7.3
If you like crime gaming try to play our best action game: the mafia gangster simulator. The criminal world will always exist on the streets in the town. In this free game, you have to try to go adventure crime saga to the pinnacle of mafia city. The price of success in this gang world is very high, few can reach the top. Try your skills in an exciting 3D thirdperson shooter with RPG elements and plunge into the atmosphere of street gang wars in an open 3D world. You are waiting for adventure missions throughout the big city. A dangerous and fascinating world in which harsh laws apply will appear before you in all its glory. If you are ready to test yourself then go ahead, show everyone who is a real gangster in the town, eliminate all fake competitors and call a big underground empire yourself.

Huge modern city
The plot of the game takes place in a large modern city surrounded by ghetto streets. Tall skyscrapers and luxurious life make this city an oasis in the desert. This sinful town never sleeps and attracts with its lights all who dare to challenge the stone jungle. Try your hand at this exciting crime adventure to success and glory.

Exciting quests
Exciting adventure missions are waiting for you to get the necessary game resources that will be useful to you for more serious tasks. You will encounter a harsh street life where everyone is for himself. The streets of the world constantly require concentration, as crazy bullets can fly here or gangs wage war with largescale shootings. Passing interesting adventure missions you better know who and how rules this vice city.

Bunch of weapons
At your disposal will be a rich arsenal with which you will not get bored. It helps combat gangsters. Cool and pumped guns will help you through the game. Improve your skills in agility, stamina, control equipment, and weapons. In the weapons store, you will find a wide selection. There are things for every taste. Starting from the smallest knife to a powerful machine gun with which you need to be able to handle. You can arm yourself to the maximum, no one will stop you.

Be cool, dude!
Customize your character, making his image unique because this is your virtual warrior and he should look stylish. You can constantly change the image of your hero. At your service a large clothing store for your own gangster. In the store, you will find hats, baseball caps, masks, glasses, funny costumes, wigs, stylish shoes, shirts, and much more. Various items of clothing increase your hero's health, agility, or stamina. Some things open up extra superpowers.

Remedies
In the store, you can buy a firstaid kit and body armor. Also, these useful things can be found on the streets of the town or taken away from enemies. Stock up on protection and restoration of health in advance, this will help you withstand the battle.

Vehicles
The game has a large number of different vehicles. Ordinary city cars, sports cars. In the store you will find powerful motorcycles, they will allow you to easily get away from the pursuit. A powerful and heavily armed tank is waiting for you, the tank is the most effective tool in the game, no one mafia guy will stop you with it.

On the city map in large numbers are free game resources such as a first aid kit, ammo, weapons, money, all you need is to find them. And of course, you can hijack any vehicle.

This free game offers a whole amusement park, explore the world and find interesting activities. You can also just drive around the city by car and listen to music.
Go ahead for the adventure!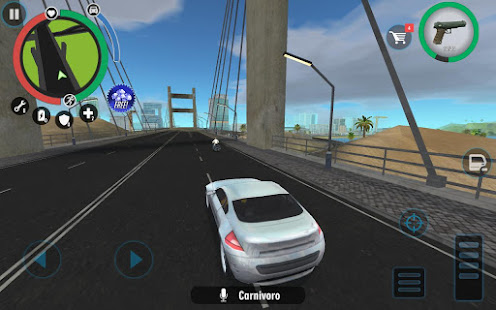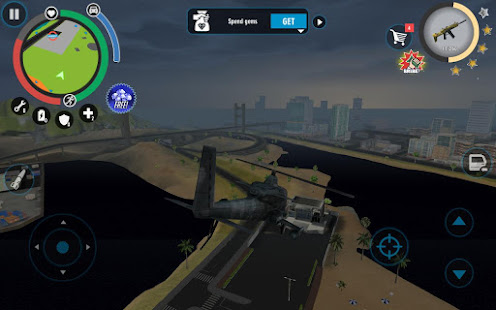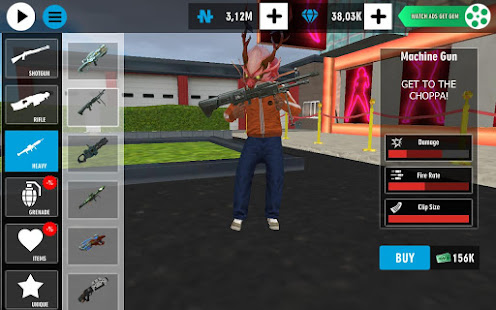 Giả lập NoxPlayer đem đến trải nghiệm chơi game tuyệt vời nhất cho bạn
Hướng dẫn chơi Real Gangster Crime trên PC cùng Giả lập NoxPlayer
1Tải NoxPlayer trên máy tính của bạn

2Chạy tệp cài đặt và hoàn tất cài đặt

3Tìm kiếm Real Gangster Crime trên NoxPlayer

4Tải game từ Google Play

5Nhấn vào biểu tượng game để khởi động game

6Chơi Real Gangster Crime trên máy tính mượt mà- ổn định với NoxPlayer
Phương pháp đơn giản
Cách 1: Nhấn vào "Tải về bản PC" để đồng thời tải về Giả lập NoxPlayer và File APK. Sau khi quá trình cài đặt hoàn tất, bạn hãy khởi động giả lập và bắt đầu những trải nghiệm thú vị.
Cách 2: Nếu máy tính của bạn đã cài đặt sẵn Giả lập NoxPlayer, hãy nhấn "Tải APK", sau khi quá trình tải về hoàn tất, kéo thả File APK vào giả lập NoxPlayer, hệ thống sẽ tự động giải nén và cài đặt.
Video đặc sắc của Real Gangster Crime
Chơi Real Gangster Crime, bạn vẫn đang nhìn chằm chằm vào màn hình điện thoại ư? Giả lập NoxPlayer sẽ giúp bạn trở thành một game thủ chuyên nghiệp để chơi các tựa game bạn yêu thích trên máy tính, điều khiển trò chơi thông qua bàn phím, chuột máy tính và tay cầm, mọi thao tác sẽ trở nên dễ dàng và linh hoạt hơn bao giờ hết, giúp cho bạn tăng cấp, leo rank nhanh hơn. Tải và chơi Real Gangster Crime một cách ổn định và mượt mà nhất trên máy tính cùng giả lập NoxPlayer. Chơi game mobile trên NoxPlayer sẽ giúp bạn tránh được những hao mòn và tổn hại cho điện thoại, không còn phải sợ các cuộc gọi đến bị cản trở khi chơi game. Bản mới nhất của NoxPlayer hỗ trợ tốt cho Android 7 và tương thích một cách hoàn hảo với hơn 99% các tựa game mobile hiện hành. Nox chính là vũ khí tối ưu nhất giúp bạn chơi tốt các trò chơi hay ứng dụng mobile trên máy tính. Chúng tôi hỗ trợ cài đặt bàn phím điều khiển cho từng game một cách phù hợp nhất, để bạn có thể trải nghiệm Real Gangster Crime một cách chân thực nhất với các thao tác như chơi trên mobile.
NoxPlayer hỗ trợ tính năng Trình đa nhiệm Multidriver, có thể khởi tạo và chơi nhiều cửa sổ giả lập và acc cùng lúc, bạn có thể đồng thời chơi game/ứng dụng yêu thích trên các cửa sổ được tạo bởi NoxPlayer. Kỹ thuật ảo hóa độc quyền từ NoxPlayer tương thích hoàn hảo với máy tính AMD và Intel, giúp cho máy tính vận hành ổn định và mượt mà. Giả lập NoxPlayer sẽ biến bạn thành các game thủ hạng nặng, còn chần chờ gì nữa, hãy tải ngay NoxPlayer về máy tính và trải nghiệm nhé!
NoxPlayer is designed for Windows and MAC OS, please visit this website via computer browser to download NoxPlayer.